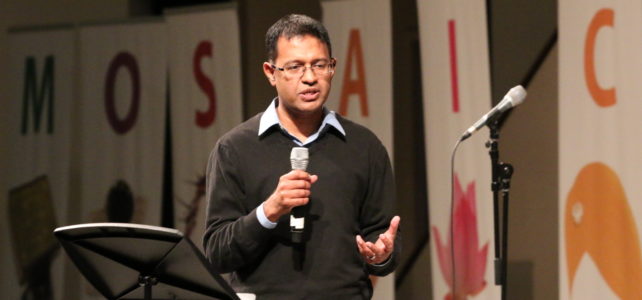 The Mosaic Express is an abridged version of The Mosaic Course, presented as a live seminar session.
What you can expect from the Mosaic Express: 
Uniqueness and significance of the Gospel in the age of religious pluralism.
Redemptive revelations of the "The Unknown God" (Acts 17:23) in major living religions: Islam, Hinduism, Buddhism, Sikhism and Judaism.
Building missiological bridges with your neighbors of other faith and worldview assumptions.
FORMAT
60 min lecture followed by 30 min Q&A (Ideal for Breakfast / Lunch / Dinner groups)
VENUE
The Mosaic Express can be offered in a facility arranged by the host church / organization.
COST 
The course is generally offered against an honorarium decided by the organizers of the event. 
BOOKING
Please fill out the Speaker Request form below. The Mosaic Express is normally presented by Dr. Mathew P. John, the creator of the Mosaic Course. Due to the limited availability of his time we may not be able to honor all the requests we receive.  Thank you for your understanding.